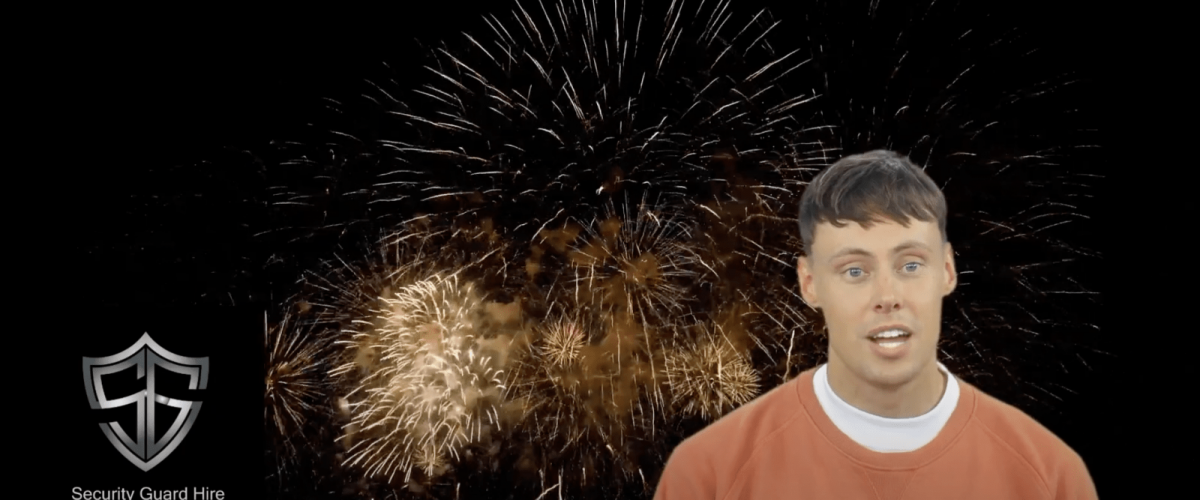 Have you booked your Security Guard through Security Guard Hire Sydney for this New Year's Eve? 
This New Year's Eve 2023 Sydney is on Saturday 31st December with a LARGE number of festivities taking place throughout Sydney. 

New Year's Eve events including parties, dinners, celebrations, dances, shows plus free events including fireworks and entertainment around Sydney.
3 is heating up early this year. We expect 2022 celebrations to be bigger and better than ever. The Midnight fireworks will run for 12 minutes The big question is have you organized or booked at least one or more Security guards to protect your assets or crowd controller for your event or private party? Security Guard Hire Sydney has a selection of confirmed availability of pre-selected guards to protect your assets at your home your business or your venue during the festivities of this New Year's Eve 2023. 
Peace of mind knowing that the Security Guard on duty is protecting your interests while you can celebrate during the night Phone or email us today.\ Master Licence 000101552 Sydney: (02) 8003 3553
Last years scheduled of events 2022
Campbells Cove In The Rocks, Dawes Point, Hickson Road Reserve, West Circular Quay, Bennelong Point, East Circular Quay, Mrs Macquarie's Point, Cahill Expressway, Embarkation Park, Potts Point, Beare Park, Elizabeth Bay, McKell Park, Darling Point, Yarranabbe Park, Darling Point, Bradfield Park and Mary Booth Reserve Milson's Point, Mary Booth Reserve, Blues Point Reserve, Lavendar Bay, Cremorne Point Reserve, Bradley's Head, Barangaroo Reserve, Elkington Park, Balmain, Pirrama Park, Birchgrove, Illoura Reserve, Darling Harbour, The Point,

7.30pm Smoking Ceremony A sacred Smoking Ceremony on the Harbour conducted by Tribal Warrior. The Smoking Ceremony is a ritual of purification and unity, cleansing the space for the new year.
8.30pm Pylon projections and lighting effects Projections enliven the Sydney Harbour Bridge pylons throughout the night. Lighting effects on the eastern side dazzle the harbour foreshore.
8.57pm Welcome to Country Gadigal Elders from the Metropolitan Local Aboriginal Land Council welcome visitors to Gadigal land. A mother and child watch the fireworks in awe among other spectators.
9pm Calling Country fireworks Calling Country fireworks celebrate the local histories and contemporary experiences of Indigenous storytellers through art, song, sound, and dance. As a way of Calling Country, the selection of artists brings connections between the land, water and sky to reflect on the past, and grow stronger into the future.
9.15pm Sydney Harbour Lights Boats adorned with lights create a visual spectacle as they glide across the harbour. Produced by the Commercial Vessels Association. Search lights point into the night sky with illuminated sailing ships and boats on the harbour in front of the Sydney Opera House.
11pm WorldPride Sydney welcomes WorldPride 2023 with a spectacular pylon projection and lighting display celebrating our community.
Midnight Fireworks Ring in the new year with the world's best fireworks show featuring pyrotechnics launched from the Sydney Harbour Bridge, Sydney Opera House and barges in the harbour.
Sydney Harbour Fireworks Vantage PointsMaps and details of zones that will be open to the public are usually to be released by October this year. As soon as the 2022 information is released, it will be updated here. Until then, use last year's details as a guide. Planning your trip to free fireworks viewing point Many roads are closed, and most people travel by public transport. Buses and trains will run, but moving around the city between 8 pm, and 1 am may be tricky. Use the Sydney City Council's real-time update map on the night – a very handy tool that has the rules for each viewing point. Allows you to search for accessible areas if needed and provides an indication of the time they expect the site to be full. Many of the free sites are alcohol-free, so make sure you check the rules before you head to your favourite spot. You can bring your own food into almost all vantage points, but most do not allow you to bring your drinks. Some areas are completely dry, so be sure to check that the site suits your needs. There are no pass outs at most of these sites, so once you are in you have to stay there. My preference is to see the front of the Harbour Bridge if possible; this is where the central climax of the firework show takes place, and it's usually spectacular. I think it's a must for international visitors. There are great viewing areas on both sides of the harbour, so my strong recommendation is to stick to the side that you are staying on. Getting back across the bridge after it's all over is tedious. Vantage Points around Circular Quay and The RocksThe following sites are managed by Place Management NSW, who owns and operates 26 hectares around the foreshore. Without a ticket or a confirmed restaurant booking in the Rocks, you may not enter this area.

Tickets for the following locations (except Hickson Rd) in 2021 were $25 for over 12 years, $10 for kids 4 – 12 years of age (must be accompanied by a responsible ticket holder 18+) OR Valid Concession Card or Health Care Card Holders and free for kids under three years of age.Campbells Cove In The RocksCampbells Cove puts you in the heart of the action, although some complain the hard surfaces make this a tough spot to sit and wait. The area has a fantastic view of the Opera House and an ok view of the bridge from some parts of the sites.Campbells Cove Harbour Bridge ViewCampbell's Cove is an alcohol-free zone. Food Trucks will be on-site, and BYO food is welcome. Gates open at 4 pm in 2022. This is the only accessible viewing area on the foreshore, and tickets are free for those visitors. Tickets are $20 to $40. This is an alcohol-free site. You can BYO food or buy from the vendors on-site.Campbells Cove Opera House ViewDawes PointDawes Point is the park under the Harbour Bridge. With the bridge literally above you, your views of the front may be limited. There are excellent views of the Opera House provided you are not stuck under a tree. However, it's worth noting that the smoke from the fireworks can be unpleasant if the wind blows the wrong way and restricts your view.There are better views at Dawes Point, but some spots will offer a restricted view due to tree cover.A big pro at Dawes Point, aside from the fact that is it free, is you get to sit on the grass in the shade, and it's usually lovely a cool spot. I think this is a good choice perhaps for a local but not a one time only experience. The space will open at 1pm. Food trucks will be in attendance and BYO food is permitted. Hickson Road ReserveThis is the grassed area directly to the front of the Hyatt Hotel, where the palm trees are. Tickets range from $37.50 – $75. Alcohol will be on sale and no BYO alcohol will be allowed. Gates open at 5pm.Hickson Road Reserve viewing area West Circular QuayThis is the area outside the Museum of Contemporary Art and First Fleet Park is the pick of this bunch for me with grass to sit on, a lovely Opera House view and a bit of distance between you and the smoke that builds up right under the bridge around Hickson Road when the wind does not blow it away, as happens some years.Western Circular Quay view mix of grassy space states open at 4pm and BYO food is permitted. However, this is another alcohol-free site. In 2022, tickets cost $12.50 to $25 and there is a capacity for 22,000 guests.I booked this site last year and got the following extra details on booking, not sure if this will be the same this year. Site access closed at 8.50 pm for the 9 pm fireworks, and 11pm for the midnight fireworks. No glass or large bags are allowed.Bennelong PointThis prime position is one of the few harbour foreshore areas that is still free but requires stamina ;-). The gates open at 7.30pm and will close at 2pm unless full earlier- I expect it will be. There is no shade, so be sure to be prepared for a long day in the sun. There is capacity for 6000 people and you can bring your own food and drink, but no alcohol. Alcohol will be on sale.East Circular QuayThe southern end of East Circular QuayThis free vantage point is the hard pathway in front of the cafes and restaurants that line East Circular Quay. This location gives you a spectacular view of the Harbour Bridge, but no view of the Opera House. Gates open at 4pm, and food trucks are in attendance. Mrs Macquarie's PointThis year Mrs Macquarie's Point will become part of the Royal Botanic Gardens ticketed sites. Tickets are priced at $40 for silver (possibly slightly restricted views due to tree cover) and $150 for gold access to the waterfront zone. You will still need to arrive early from, 11am to secure the best location. More details are below under the Royal Botanic Gardens details below.Trees obstruct some views of the Harbour Bridge at Mrs Macquaries Point. Cahill ExpresswayThe Cahill Expressway is the roadway that runs above Circular Quay Station. On NYE, they close the road and turn it into a great viewing point. Tickets are free, but it is a ballot process. The ballot is technically for NSW residents, although I met many visitors the year I was there. The ballot has now closed and ticket holders will be notified shortly.Usually, the capacity is 3000 for each show. I was lucky enough to score five tickets two years ago, and it was fantastic fun. It is run by the RMS (Roads and Maritime Services). A couple of things to note: It is an alcohol-free zone; you only have tickets to either the 9 pm or the midnight shows – you can't stay for both.Fireworks Viewing on the Southside of Sydney Harbour Embarkation Park, Potts Point A short walk from Kings Cross Station Embarkation Park looks out over Woolloomooloo and has limited views of the Harbour Bridge. Open from 7 pm and alcohol-free. Capacity is 840Embarkation Park offers some Harbour Bridge views. Beare Park, Elizabeth BayBeare Park offers partial fireworks views. This is not an official site this year so we are not sure of the restrictions that may be put in place. McKell Park, Darling PointThis tiny park offers a good view of the Harbour Bridge, with the tip of the Opera House also visible. It is an alcohol-free spot suitable for a byo picnic, with space for 1000; this site mainly attracts locals. Entry will be from noon. This site is not accessible. Managed by Woollahra Council – view full details here. Yarranabbe Park, Darling PointYarranabbe Park has a capacity of 10,000 and will open at 3pm. Alcohol is prohibited, food will be on sale, and you can BYO picnic.Fireworks Viewing Points on the Northside of the Harbour Bradfield Park and Mary Booth Reserve Milson's Point Bradfield Park and Mary Booth Reserve will have a capacity of 17,000 – The view at these two spots varies greatly. Bradfield Park is primarily a western side view of the Harbour Bridge and a restricted view of the Opera House for all but the earliest arrivals. Bradfield Park is ticketed and an alcohol free site. BYO food and soft drinks (no glass), food for sale on site.Mary Booth Reserve has great views of the Opera House and Harbour Bridge from Mary Booth Reserve. Gates open at 5pm and I expect people will line up early to get access to Mary Booth grass as it has the best view. There no shade as you wait so wear sunblock!Blues Point ReserveThis alcohol-free ticketed area run by North Sydney Council has space for 7,350. Tickets previously cost $12.75 (inclusive of booking fee). Food will be on sale and you can BYO food if you prefer. Lavendar BayThis is a free ticketed area with a great view to the bridge. There is a capacity of 3700 and, like many foreshore areas, this is also an alcohol free site. Gates open at 5pm and you can BYO or buy food on site. This area is accessible. Cremorne Point ReserveThis view of the city from Cremorne was taken just left of the poolsEven though there is no full direct view of the Harbour Bridge, this is still a lovely spot to spend New Year's Eve. It's an alcohol-free zone these days, but there is a fantastic view of the Opera House. Get there early as there is only space for 5000 people. Free!Bradley's HeadSitting on the Harbour just past Taronga Zoo, Bradley's Head has direct views of the Opera House and Harbour Bridge. There are three family-friendly vantage points to choose from – The Amphitheatre, Mast Precinct and Athol Lawn. Sites open at 3pm.The Amphitheatre – Adults $89 Kids $46
The Mast Precinct – Adults $57 Kids $30
Athol Lawn – Adults $41, Kids$24Viewing the NYE Fireworks on the West of the HarbourWith North Sydney Council introducing ticketing for their free areas this year, expect the western side of the harbour to become more crowded than previous years when those who could not plan and find themselves looking for free options. Barangaroo ReserveWest of the Harbour Bridge – Barangaroo Reserve opened is fast becoming a popular site for families, and it sold out pretty quickly last year. The site is ticketed for 10,500 and doesn't feel too full.Barangaroo NYE 2019Gates open at 5pm, and while there is no BYO, you can buy alcohol on site. This site is accessible and a good choice for families. 2023 prices – Adults $57.10, Concessions $36.20 and kids $26. They are on presale now and will are on sale now (Sept)Elkington Park, BalmainFree site, no glass or alcohol. Good family-friendly place. No views of the Opera House or Harbour Bridge. Fantastic fireworks views but restricted views of the city. Capacity 3000. Pirrama ParkPirrama Park is a family-friendly choice with partial fireworks views, will open at 4pm and has a capacity of 10,500 people. This free ticketed area is best suited to picnics only as there will be no food for sale on site. Tickets can be booked now. Pirrama ParkBirchgrove Free site with no glass or alcohol. Pleasant shade for hot sunny days. Capacity 5000. This site has a good view of the western side of the Harbour Bridge but no view of the Opera House. Gates open at 8am. Illoura ReserveIlloura Reserve is a popular spot with locals, with a capacity of 2850 people. Alcohol-free, views of the Sydney Harbour Bridge but not the Opera House. Entry is free and gates open at 8am. Minutes walk from the ferry wharf. Darling HarbourDarling Harbour will have free family areas as well as lots of restaurants offering special packages. It's also home to several nightclubs, so there is something for everyone, but you should know that you don't get the harbour experience from here. They have fireworks, but in my opinion, it's just not the same, and I do not recommend it for international or one-time visitors.New Year's Eve 2022 in Sydney's Royal Botanic GardensTickets for NYE in the Botanic Gardens 2022 are on sale now. All tickets sold support the work of our science, horticulture and conservation projects. Most of these areas are wheelchair accessible, but you must request this when booking.Watching the fireworks from The Royal Botanic Gardens is like sitting in the dress circle. This year they have five paid options for ticketed entry to their amazing locations for those who are not members of the "Friends of the Botanic Gardens". I have to tell you this is my favourite place. If you are planning for next year, I suggest you register here to be advised when presale tickets are released.The Point NYE (Mrs Macquaries Point)The Point is a pretty chilled event right by Fleet Steps North at Mrs Macquaries Point. In my opinion, this is the best view of the Gardens locations because of the way the Opera House and Harbour Bridge line up. Entry is between 5.30 pm with the last entry at 8.30 pm; the party ends at 1 am.Seating at the Point NYEKey PointsLive entertainment to help pass the hours – Live DJ, live musicians and roving entertainment Menu here – includes a gourmet nibbles hamper on arrival, followed by dining stations (Mexican, curry, dumplings, pies) and dessert from 9.30pmThis is an over 18s only area. Unreserved seating – you can also bring a blanket to sit on1km walk from the nearest public transport – mainly level ground.Bars will be on site for purchases of alcoholic and non-alcoholic beverages.Gates open 5.30pm and close at 1am. Tickets: $520 per ticket + $6.50 booking fee, this is usually one of the first areas to sell out.It's an amazing view from The Point The Sydney 2000 – Captain Cook's Flagship vessel
Alexandria Security Guard Hire Sydney Alexandria New Years Eve, Annandale Security Guard Hire Sydney Annandale New Years Eve, Barangaroo Security Guard Hire Sydney Barangaroo New Years Eve, Beaconsfield Security Guard Hire Sydney Beaconsfield New Years Eve, Camperdown Security Guard Hire Sydney Camperdown New Years Eve, Centennial Park Security Guard Hire Sydney Centennial Park New Years Eve, Chippendale Security Guard Hire Sydney Chippendale New Years Eve, Chippendale Security Guard Hire, Darlinghurst Security Guard Hire Sydney Darlinghurst New Years Eve, Darlinghurst Security Guard Hire, Darlington Security Guard Hire Sydney Darlington New Years Eve, Darlington Security Guard Hire, Dawes Point Security Guard Hire Sydney, Dawes Point New Years Eve, Dawes Point Security Guard Hire, Elizabeth Bay Security Guard Hire Sydney Elizabeth Bay New Years Eve, Elizabeth Bay Security Guard Hire, Erskineville Security Guard Hire Sydney, Erskineville New Years Eve, Erskineville Security Guard Hire, Eveleigh Security Guard Hire Sydney, Eveleigh New Years Eve, Eveleigh Security Guard Hire, Forest Lodge Security Guard Hire Sydney, Forest Lodge New Years Eve, Forest Lodge Security Guard Hire, Glebe Security Guard Hire Sydney, Glebe New Years Eve, Glebe Security Guard Hire, Haymarket Security Guard Hire Sydney, Haymarket New Years Eve, Haymarket Security Guard Hire, Millers Point Security Guard Hire Sydney, Millers Point New Years Eve, Millers Point Security Guard Hire, Moore Park Security Guard Hire Sydney, Moore Park New Years Eve, Moore Park Security Guard Hire, Newtown Security Guard Hire Sydney, Newtown New Years Eve, Newtown Security Guard Hire, Paddington Security Guard Hire Sydney, Paddington New Years Eve, Paddington Security Guard Hire, Potts Point Security Guard Hire Sydney, Potts Point New Years Eve, Potts Point Security Guard Hire, Pyrmont Security Guard Hire Sydney, Pyrmont New Years Eve, Pyrmont Security Guard Hire, Redfern Security Guard Hire Sydney, Redfern New Years Eve, Redfern Security Guard Hire, Rosebery Security Guard Hire Sydney Rosebery New Years Eve, Rosebery Security Guard Hire, Rushcutters Security Guard Hire Sydney Rushcutters New Years Eve, Rushcutters Security Guard Hire, St Peters Security Guard Hire Sydney, St Peters New Years Eve, St Peters Security Guard Hire, Surry Hills Security Guard Hire Sydney Surry Hills New Years Eve, Surry Hills Security Guard Hire, Sydney Security Guard Hire Sydney The Rocks Security Guard Hire Sydney, The Rocks New Years Eve, The Rocks Security Guard Hire, Ultimo Security Guard Hire Sydney, Ultimo New Years Eve, Ultimo Security Guard Hire, Waterloo Security Guard Hire Sydney, Waterloo New Years Eve, Waterloo Security Guard Hire, Woolloomooloo Security Guard Hire Sydney, Woolloomooloo New Years Eve, Woolloomooloo Security Guard Hire, Zetland Security Guard Hire Sydney, Zetland New Years Eve, Zetland Security Guard Hire,